Mount Rainier Emmons, Elevation 14,410ft
September 6, 2002
1 day
Ben, Sky
Author: Sky
The Emmons Glacier. Our route is in red. We ditched our skis near the blue dot. Camp Schurman is near the green dot.
Ben sent me an e-mail Friday that mentioned trying Disappointment Cleaver, or something else on Rainier, on Sunday. Jason and Josh were both sick, so they wouldnít be along for the ride. Somehow I got the idea in my head that we may find a more satisfying continuous ski on the Emmons. The distance was of no consequence, itís always worth it for the turns, right?
I managed to bum a ride Sunday morning to meet Ben at his brotherís in Tacoma. I basically had no sleep after going to a wine and cheese party, but why should that be a problem? We left Tacoma around 2:30am, and we began hiking from the White River campground area as the clock struck 4:00. It quickly became apparent that Ben's LED headlamp was infinitely better than my Fred Meyer model with a krypton bulb. If I was in front of him, the light from mine was not enough to overcome the silhouette from his, and I couldnít see directly in front of me. I ended up beside or behind him and used his light.
Sky at the White River parking lot. There were no other cars.
High pressure was maintaining its hold, and we were above the clouds the whole time. After we reached timberline there were strong wind gusts. Those would accompany us most of the day. We stopped next to the Inter Glacier to change from shoes to boots and crampons.
The glacier was down to a very firm, dirty surface indeed, and the crevasses were out in full effect. Ben danced through them easily enough, but not without several steps with intriguing views. It was daylight by the time we crossed the ridge to the Emmons Glacier. We left our shoes below Camp Schurman and continued.
Sky making his way through a crevasse field on the Inter Glacier.
Sky nearing the ridge that we traversed to get to the Emmons Glacier.
We were hopeful about how white the mountain looked up high, but the skiing conditions were nowhere near ideal. Somewhere below 11,000 feet, the continuous onslaught of icy surface conditions and strong wind gusts convinced us to leave the skis in the name of progress. Travel was much lighter and swifter after leaving the skis, and we traversed south to the corridor. I was somewhat disappointed about leaving the skis while climbing what seemed about 2,000 vertical feet of moderately steep packed powder shortly thereafter. I sure didnít feel like going back to get the skis, though.
Sky nearing the corridor where we ditched our skis. As you can see, the skiing wasn't too pleasant.
Little Tahoma on ice.
Ben stopped and waited for me to catch him just below a steeper, icier section. The plan was to traverse to meet the Disappointment Cleaver route at the top of the steep slope. I nodded off while we rested, and woke up to confusedly ask Ben if he had heard something. When he asked if I was ready to go and still make a summit attempt, I snapped to attention.
While traversing at the top of the steep icy slope below a huge crevasse, I took the excellent opportunity to practice and execute the self-arrest. Those Black Diamond Whippets ainít half bad. I reminded myself to pay attention, this was not a class.
Sky stepping off the Emmons and aiming for Disappointment Cleaver. Glad to hear the Whippet came in handy.
After a five minute nap at the crater rim, we kicked ourselves back into motion. Ben made a slow methodical stroll across the crater. I was a bit more frenzied, but probably just because I wanted to sit down again. We reached the summit at 4:00pm, and it was past time to think about getting down the mountain.
Sky at the summit crater.
Ben on the summit looking northwest.
Photographer: Sky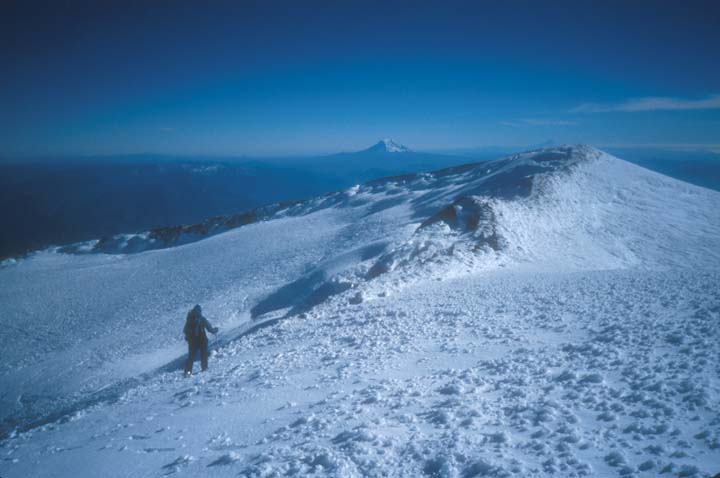 Sky heading south from the summit.
Foregoing breaks, I moved as quickly as my remaining energy allowed. The east side of the mountain was all shade, which gave me an incentive while climbing back up to get around several crevasses. Plunge-stepping lost its fun for me at some point during this segment. Iím pretty sure it was right in the middle of all of that packed powder that would have actually been worth skiing. It was dusk when we got to our skis again. I had thought my water was almost empty since before the summit, but here I figured out that I had drank less than a quart, and the line was just frozen. I had a good drink there.
Sky descending some nice packed powder around 12,000 feet. Where are the skis when you need them?
Sunset looking north.
Sunset looking south.
Ben at the spot where we ditched our skis.
Photographer: Sky
We skied all of about 1,000 vertical feet, on a terrible snow surface with myriad crevasses, and it was almost dark. Furthermore, I forgot to lock my relatively new randonnee boots into downhill mode, which made for shaky skiing on my part. I thought, "I know Iím tired, but I didnít think I could ever ski this poorly." The climb off the Emmons below Camp Schurman found us in the dark. I changed the batteries to my weak headlamp, and we scrambled up to the ridge.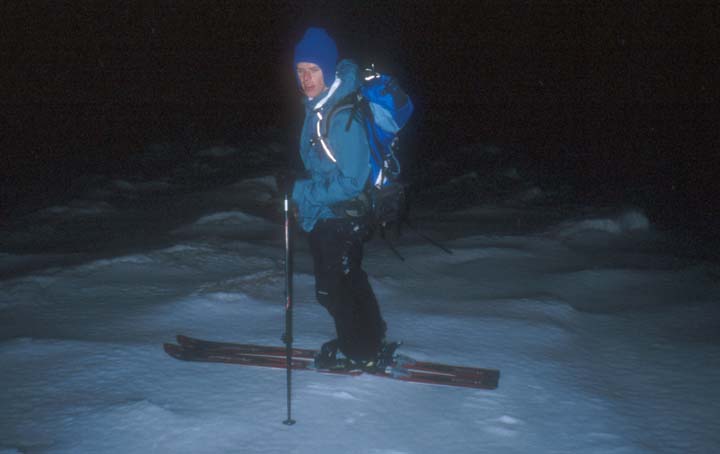 Sky night skiing near Camp Schurman.
Sky negotiating one of several sketchy crevasse crossings near Camp Schurman.
The Inter Glacier would not have been too bad if we could have retraced our path, and if it wasnít for the fierce wind gusts. It was here that I really got a kick out of how skis on a pack can harness the wind so well. Maybe some daylight could have helped, too. When the Inter finally ended, the trail reached up and bit me several times on the hike out. I had to holler at Ben when my headlamp went dead and he was ahead. Finally, we came to the truck. It was after midnight when we pulled out of the parking lot. It was time to leave the driving to Ben and get some much needed sleep.
I was really exhausted. During a pit stop at Dennyís, Ben mentioned something about staying up all night before going back to work, with how little sleep he would get anyway on his way back to Bellingham. I felt that staying up the whole previous night was good enough for me. Ben sent me an e-mail some time around six in the evening the next day, something about finally getting ready to take a nap. I couldnít help but wonder if he needed a sedative.
Click Here for Sky's photos.