Mount Shuksan, Elevation 9,131ft
Price Glacier, 55+ degrees
May 2, 2003
1 day
Ben, Sky
The Price Glacier. Our climb is in blue and our ski is in red. Nooksack Tower is seen on the left and the North Face of Mount Shuksan on the right.
My first attempt to ski the Price Glacier was a folly. My second came a week prior and although the odds had increased, the initiative had not. The third time was a charm. My slides were mistakenly developed as negatives so the photos didn't turn out as hoped but I expect the memories to last.
Click Here for a link to Sky's trip report.
Sky climbing the steep chute next to Nooksack Tower. I had no intention or desire to ski this slope so we were faced with a series of rappels or finding a different route down. You can't really tell but there are several icy runnels to his left and it narrows to a width of less than 10 feet beneath here.
Nevertheless, we pressed on and this was the result. Looking east towards Nooksack Tower from the summit plateau. This was one of the few breaks in visibility and gave us a close look at the enormous cornice that we tested our luck beneath during the last part of the climb.
Looking west towards the upper Price Glacier that we deemed impassible due to the bergschrund seen on the left. The Northeast Chute can be seen in the center and Price Lake at the bottom of the valley.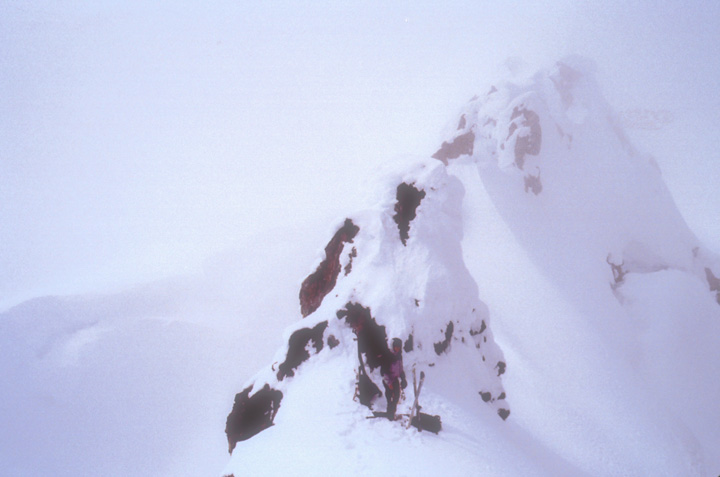 Sky repacking at our turnaround. The summit of Shuksan lies to the left, a distant traverse across the Crystal Glacier. Given the visibility and suspense, something neither Sky or I could stomach.
Sky dropping into the open chute, skier's left of where we climbed. We skied to the right of the sharp saddle in front of him.
Sky cranking turns down the steep, fluted chute. We sidestepped a good portion of the remaining chute as it narrowed and became icy.
Sky checking our options next to Nooksack Tower. Fall here and it's goodbye baseball. The slope in front of him was better than what we climbed but not by much. Again, we ended up sidestepping a good portion of it.
The Price is Right. Having crossed the deep ice runnel (the only point where I took my skis off), we were pretty much home free at this point. All that remained were some relatively flat turns beneath Nooksack Tower, a gradual traverse above Price Lake, a steep descent through the woods, a short schwack through some flats, three miles of road and two creek crossings. Ok, so maybe we weren't sold quite yet.