The Y, Elevation 5,800ft
January 11, 2003
1 day
Ben, Troy, Jason, Josh, Steve, Sam
The Y seen from Highway 12.
Faced with another so-so day of lift skiing at White Pass, Troy, the Hummels and I decided to give The Y a shot. Jason and I skied a few runs while Troy and Josh shuttled. To their regret, we ran into Steve and Sam and convinced them to join us.
The voyage began near the eastern edge of Holiday. We found some snowshoe tracks that led to the summit of Twin Peaks where we took off our skins and began the descent. The base was thin for this time of year so finding our way through the trees was difficult. Fortunately, I knew the route well after several botched attempts in recent years.
Sam, Steve, Jason and Troy near the summit of Twin Peaks.
Jason and I dropped in the highest chute while Troy, Josh, Steve and Sam traversed further east to a chute that I wasn't familiar with. The snow started out bad and got worse with every turn. We encountered everything from breakable crust to icy slide paths to icy debris. There were a few stashes on the sideslopes but nothing like my previous trips where bottomless powder was hard to miss. The icy debris took forever to negotiate and we ended up too high near the creek. By the time we reached the base of the highway slope, I couldn't help but scream. Josh and I raced the final 600 vertical feet in less than 15 minutes. The others were a long ways behind but we were all happy to reach the road.
Jason drops in the highest chute.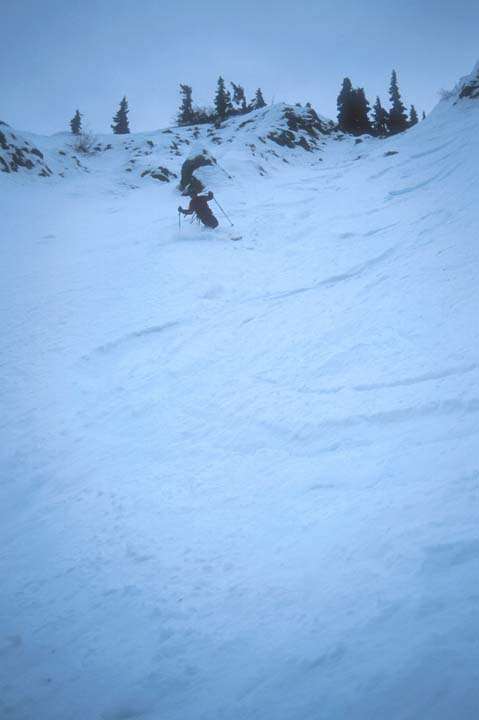 Looking good so far.
Doing whatever it takes to avoid the icy debris.
Survival skiing at its worst.
Josh crossing the creek on a log bridge.
Troy crossing the creek on a ski bridge.
I felt bad for the others since this was their first time down, however I can't imagine it much worse than so I guess they have something to look forward to.