Mount Adams, Elevation 12,276ft
November 18, 2001
1 day
Josh, Ben
Author: Josh Hummel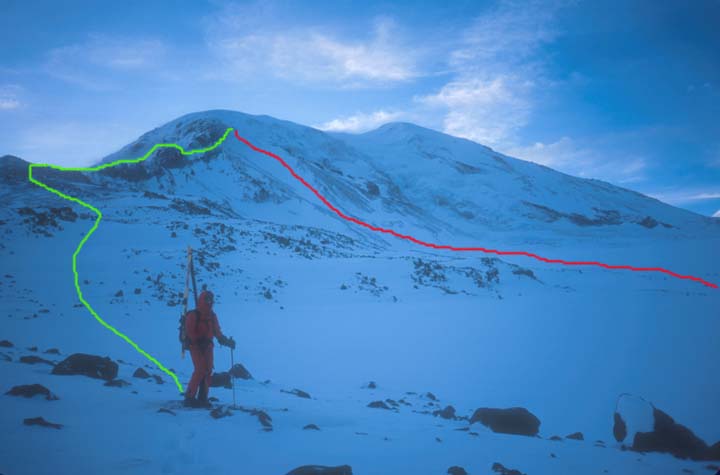 Josh near the base of the Adams Glacier. A nice day, or so we thought. Our climbing route is in green and our ski descent is in red. This is where we switched from tennis shoes to ski boots.
At 12,276 feet Mount Adams is the second tallest mountain in Washington. Via its South Spur it is climbed by many thousands of people per year, which makes it the most popular route. Falling in a distant second is the North Ridge, a longer and more technical route than the South Spur. During early spring (not early fall) the North Ridge has a scenic quality that the South Spur can never achieve.

Full of nonstop Class IV rapids the North Fork Tilton rushes down at 136 feet per mile. This run is a treat that would satisfy any paddlerís pallet. Then there is the Lower Tilton, which is considered one of the best play rivers in the state. Combined, this is a run that few could pass up.
What was I to do? I couldnít really do both, or could I?
I drove to my Dadís house Friday night. The original plan was to gather a group together and camp on the North Face of Mount Adams. The weather was nice and was to remain that way for a few days. We were a bit unsure of the faceís snow coverage and Jason wanted to wait a week or two. Ben thought the roads would be snowed in by then. It turns out he was right. Ben and I ended up kayaking both the North Fork and Lower Tilton on Saturday. The sun teased us all day. We couldn't stand another day in the clouds when there was good skiing to be had.
Unfortunately, there was a dilemma. My ski clothes, boots, boards, and the rest of my climbing gear was in Tacoma. Fortunately, I have an Old Man (well, heís not that old) with all the goodies. I was set-up by dusk.
By 1 am we were up, blurry eyes and all. We were running on three hours of sleep. Jason decided to stay home, the Old Man went resort skiing at Mount Hood and Troy had to keep the couch company. It was up to Ben and I to do all the dirty work. We left my Dadís place at a quarter before 2 a.m. For a second I had wished I stayed home, but before my brain could think properly, we were off.
The parking lot was reached in no time. In my bag I had an old pair of my dadís skis, gloves, poles, water bottles, and one of his packs; my step momís boots, ski coat, and pants. Unfortunately, I had no goggles, hat, ski socks, thin gloves, sunscreen, Chap Stick, and worst of all, no light. I interchanged the ski socks with fruit of the loom cotton, goggles with sunglasses, hat with Benís balaclava, and the rest I went without.
We left the trailhead around 4am. The hike was enjoyable even with our lack of sleep. We had some trouble finding our way. Benís light came in handy during such occasions. The stars served when the light did not.
There was no moon, but one heck of a light show. That morning was going to be the last performance of the Leonid meteor shower. It was still dark, but my eyes soon adjusted well enough to be able to walk without falling over my own two feet. We both found ourselves staring at the sky rather than the trail.
There was a trace of snow at the parking lot and nearly a foot at timberline. My tennis shoes did well enough. As for the cotton socks?
With the help of Benís light we were able to remain on the trail (most of the time). Not that we needed it for direction, per say, but fast and easy access through the trees and underbrush.
The meteor shower was a sight to be remembered. At times a shooting star would actually light up the ground as it arced across the sky. The night was aflame in an amazing light show that in of itself made this trip well worth the time and effort. I sometimes forget how vivid and detailed the stars and constellations can become at night.
Soon we passed high camp. Neither of us wanted to take a break, climbing up was our focus. Few people have the strength to maintain this single-minded strategy. It has helped us succeed in the past numerous times and, as of yet, we had no reason to doubt it. The Lower Adams Glacier was now in sight. Finally we could break before we began our way up to the North Ridge. The sun was still below the horizon; it was light, but the warmth of the sun remained unattained throughout the day. It was 15 degrees that morning and a slight wind was beginning. After our break we continued with what became a battle between the elements and us.
Hiking up to the North Ridge was no picnic. The wind was surpassing Mach 1 and the ground was void of all snow. What remained was a solid chunk of ice. Luckily, during our break I had put on my ski boots. I was worried my feet would freeze solid if I kept my tennis shoes on any longer, even though they made for easier and faster hiking there comes a point where fast and easy are just not worth cold feet. On the way up to the ridge I found myself walking sideways rather than up. At last I made my way to a point where I could see the Lava glacier on the east side of the North Ridge. Here the wind had reached Mach 2. I struggled up the ridge a couple hundred yards to where Ben was attempting to stuff down his second bagel of the day. He usually manages to bring six along. This time he had only four.
Josh near the base of the North Ridge.
Deep down we both knew that we couldnít summit. There were two reasons: the weather and no ice axe or crampons. We decided that we should climb up the ridge another 1,000 feet or so and slip over to the West Face of the North Ridge. Due to conditions and lack of equipment, this undertaking became quite the challenge. Everything and I mean everything was covered in a solid sheet of ice. The snow level had recently gone up to 10,000ft and the previous week's flood rains had taken their toll on this year's measly base. It had snowed a couple inches since the rain but most of that blew off. Anyway, the rocks were covered in a thick sheet of ice, as was the snow. One mistake and you would fall to a very unpleasant death.
Josh traversing along the North Ridge.
We had some trouble making our way off of the North Ridge but we handled it. Soon though, to our distress, things took a turn for the worse. We were marooned between the North Ridge and our ski line. Neither of us wanted to hike down so we continued on. Ben hugged a vertical cliff beneath the North Ridge. I decided to traverse my way across the ice sheet rather than attempting to climb up it. The diamond looked user-friendlier. That diamond is the slope we later skied. This slope was much easier to climb up because a day's worth of snow had managed to stick. The way over to such safety was frightening because without crampons my boots could gain no purchase into the ice. I had to walk on the irregularities of the ice, such as where the ice had covered rocks and also where the ice had formed slight ridges on the 40 degree face. Walking across such a slope involved tricking my mind saying, "If I fall I can stop." This hypothesis proved to be incorrect.
Josh hugging the cliff below the North Ridge. Notice the ice.
After a few tense moments (2 hours) I made it to the top of the slope. There was no place I could find to rest, except a small, and I mean very small nook under a cliff. It would do. I took what shelter it offered and rested. Soon Ben made it up his death-defying route. He was also without crampons. We enjoyed the view of the North Face of Northwest Ridge and Stormy Monday without the hurricane force winds that graced their slopes. We even saw some people descending the Adams Glacier. They must have used a different approach since ours was the only car at the parking lot. I doubt they made the summit due to the wind and avy conditions. Ben eventually finished his third bagel and we were off.
Josh at the top of the diamond. Ben's route is in yellow and Josh's is in blue. Our ski descent is in red.
I went first and Ben readied for a photo. The snow was better than expected, but the old tele skis werenít. I nearly fell but we made good time. I wasnít very comfortable with my dadís skis. They didnít belong on firm snow. There edging ability was limited. At about 500 feet below the top Ben took another photo.
Little Red Tele Hood.
The skiing was excellent, but that soon changed. The snow switched to a heavy crust and I found myself heading straight for Ben (who was taking a photo) unable to turn my dadís flimsy old skis. Fortunately, I missed Ben. Unfortunately, I went careening, out of control into the rocks, which were covered in a cocoon of ice. My skis were still in front of me, but they were pointed the wrong way. I was in a desperate situation. I could fall all the way down to the bottom of the face and risk losing a significant portion of my skin. Or I had to turn and quickly. Unfortunately, there was only one way to turn to avoid Ben. I was not losing any speed and soon I was bouncing off of rocks. Instinctively, I clawed at the ice and tried to grab on to the rocks. When that did not work the more intelligent part of my brain took over. What I had to do was turn my skis around and make my way back to the softer snow. With what skill I could muster I was able to roll myself and head for the open slope and the better snow. Once there I was able to gain control of my out-of-control decent, but not without receiving many bruises, some bashed in ribs, and a few cuts. By the time I skied to the bottom of the face I was recovered enough to enjoy the ski and reminded myself never to lose control again on a steep face. I was lucky this time because it was near the bottom that I lost control and not at the top. On the majority of the face once you lose control there is no gaining it back.
Josh about to bite it, hard.
The ski was pleasant all the way to high camp. On the way down I took a couple of pictures of Ben. At high camp we stopped to take off our skis and rest. The weather was nice and the wind was non-existent. I ate the food I had been saving for just such an occasion. Ben ate his forth bagel. In about a half an hour we left. With our skis off we made our way across the stretch of rocky flat land that made up high camp. At the top of a slope a few hundred yards east of the main trail we put our skis back on for the ski finale. To our amazement this slope offered the best turns of the trip. There was about five inches of powder on top of a firm base. It was perfect. At the bottom we saw some people following our tracks up to high camp. Quite surprised to see us skiing yet they were still clueless. Skiing from over 10,000ft at the onset of winter and back home in time for dinner. This was not your typical trip to Muir.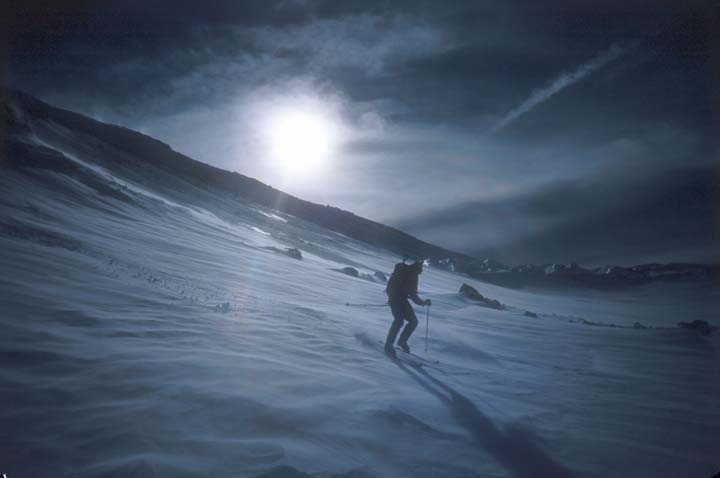 Ben skiing at the base of the diamond.
Photographer: Josh
Ben skiing flats on the Adams Glacier. The diamond that we skied is above and to his right.
Photographer: Josh
We had hoped to ski some of the trail but it really wasn't worth it. Even though there was snow at the trailhead there wasn't much of a base. It stayed pretty consistent all the way to the meadows at one foot deep and no base. The hike out was OK, though a little ruff on the feet. We had kept our boots on all the way to the car. Finally, the trip was at an end. Another classic that tells of our misadventures in this place that we call the Cascades: our arena where battles are won or lost by a drop of rain or a stroke of the wind. Unfortunately, we chose the wrong tools for this battle.